It looks like the polar vortex has left and the sun has arrived.   And none too soon we think. It's time for the heavy wools to give way to cotton, linen and color.  Lots and lots of color.  With that in mind, M. S. McClellan is pleased to introduce some of the first arrivals for the spring/summer season that we feel certain will be just the remedy for the winter blahs….
A sartorial observation….make note in these photos that if you do not wear a tie, the pocket square can often be an easy and colorful alternative.
Coming next week….Spring/Summer Robert Graham


Bills Khakis cotton/linen 1/4 zip pullover.  Light enough to get you through April, but warm enough to keep off the chill.


Bills Khakis – Spring 2015 Signature Plaid


Bills Khakis – Oxford Cloth Gingham


Canali sportcoat – the colors of this season's collection are inspired by the coastal colors of Capri


Canali


Exploded gingham popover sportshirt from Gitman Bros.  The popover is a 1960's classic started by Gant.  Notice that the placket only goes half the way down..hence you pull it over your head.  It tucks in cleaner, but it can also be worn untucked.  We also have this shirt available in linen options as well.


Peter Millar silk and linen soft coat with sweater and sport shirt


Peter Millar


Crittenden silk and linen soft coats.  A perfect compliment to dress up 5 pocket denim or casual pants and in the perfect weight for the coming months.


Vineyard Vines…..we'll show more of this wonderful collection in another blog


Cotton Brothers sportshirt with new Vineyard Vines Shep Shirt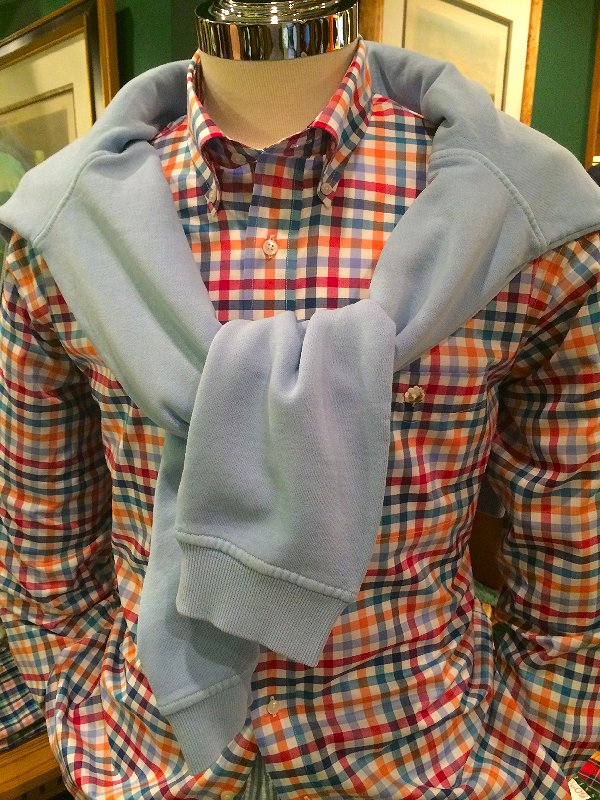 Eton sportshirt with Peter Millar vest


Coppley sportcoat …. Robert Jensen tie


Canali sportcoat….Donahue shirt….Breuer tie


Club Polo by Southern Tide….cotton jersey comfort, tonal Skipjack logo on back